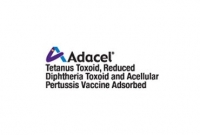 Proper Name
Tetanus Toxoid, Reduced Diphtheria Toxoid & Acellular Pertussis Vaccine, Adsorbed
Indication
Immunization for prevention of tetanus, diphtheria and pertussis as a single dose in persons 10 through 64 years of age.
Description
Adacel is a sterile isotonic suspension of tetanus and diphtheria toxoids and pertussis antigens adsorbed on aluminum phosphate, for intramuscular injection.
Key Regulatory Milestones
2005 - Adacel was initially approved in the US
06/28/2017 -  submitted a Type C Meeting request under IND 9226 
09/19/2017 - The Type C meeting (CRMTS #10830) was held with the applicant.
12/12/2017 - efficacy supplement for Adacel was submitted under STN 125111/679
01/11/2019 - PDUFA Goal Date
12/28/2020 - FDA approval date