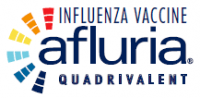 Proper Name
Influenza Vaccine (Quadrivalent)
Indication
For active immunization of person ages 18 years and older against influenza disease caused by influenza virus subtype A and type B present in the vaccine.
Description
AFLURIA QUADRIVALENT, Influenza Vaccine for intramuscular injection, is a sterile, clear, colorless to slightly opalescent suspension with some sediment that resuspends upon shaking to form a homogeneous suspension
Key Regulatory Milestones
09/28/2007 - Afluria TIV, developed by CSL Biotherapies (renamed as bioCSL in 2014), was granted accelerated approval(STN 125254/0).
11/10/2009 - accelerated approval was extended to include children 6 months to 18 years of age in response to the 2009 H1N1 influenza pandemic.
12/02/2011 - traditional approval was granted for individuals 18 years of age and older (STN 125254/259).
07/2015 - bioCSL and the influenza vaccines business of Novartis merged to form Seqirus.
08/26/2016 - Afluria QIV was approved in adults 18 years of age and older (STN 125254/565).
10/31/2017 - Seqirus submitted a supplement to Biologics License Application.
12/01/2018 - PDUFA Goal Date
07/02/2020 - FDA approval date