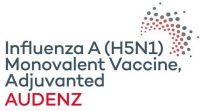 Proper Name
Influenza A (H5N1) Monovalent Vaccine, Adjuvanted
Indication
AUDENZ is a vaccine indicated for active immunization for the prevention of disease caused by the influenza A virus H5N1 subtype contained in the vaccine. AUDENZ is approved for use in persons 6 months of age and older at increased risk of exposure to the influenza A virus H5N1 subtype contained in the vaccine.
Description
AUDENZ, a sterile injectable emulsion for intramuscular use, is an inactivated, monovalent, subunit influenza vaccine prepared from virus propagated in Madin Darby Canine Kidney (MDCK) cells, a continuous cell line.
Key Regulatory Milestones
12/2015 - Fast Track designation was granted
05/07/2014 - Type C meeting between the Center for Biologics Evaluation and Research (CBER) and Novartis Vaccines
06/21/2018 -  pre-BLA meeting with Seqirus to discuss the manufacturing, pre-clinical and clinical information  Seqirus indicated that the plans had changed since the
02/01/2019 - final submission of the rolling BLA for Audenz, (STN 125692).
01/31/2020 - FDA approval date
02/01/2020 - PDUFA Goal Date
Advisory Committee
An Advisory Committee meeting was not held for Audenz since relevant issues regarding licensure of pandemic vaccines were discussed previously at Vaccines and Related Biological Products Advisory Committee (VRBPAC) meetings held on February 29, 2012, and November 14, 2012; and because our review of information submitted in the BLA did not raise concerns or controversial issues which would have benefited from an advisory committee discussion.