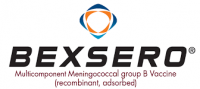 Proper Name
Meningococcal Group B Vaccine
Indication
Active immunization to prevent invasive disease caused by Neisseria meningitidis serogroup B in individuals 10 through 25 years of age.
Description
BEXSERO (Meningococcal Group B Vaccine) is a sterile, white, opalescent, suspension for intramuscular injection. Each 0.5-mL dose of BEXSERO is formulated to contain 50 micrograms each of recombinant proteins Neisserial adhesin A (NadA), Neisserial Heparin Binding Antigen (NHBA), and factor H binding protein (fHbp), 25 micrograms of Outer Membrane Vesicles (OMV), 1.5 mg aluminum hydroxide (0.519 mg of Al3+), 3.125 mg sodium chloride, 0.776 mg histidine, and 10 mg sucrose at pH 6.4 – 6.7.
Key Regulatory Milestones
04/01/2014 - Breakthrough Therapy designation granted
07/24/2014 - Novartis Vaccines and Diagnostics Inc., submitted a BLA for BEXSERO.
03/24/2015 - PDUFA Goal Date
10/24/2019 - FDA approval date
Advisory Committee
An advisory committee meeting was not convened during the review of this original BLA. A VRBPAC meeting was held April 7, 2011, to discuss approaches to demonstrate effectiveness of meningococcal serogroup B vaccines. At this meeting, the committee concluded that serum bactericidal antibody levels induced by a meningococcal serogroup B vaccine as measured by hSBA assays are an appropriate measure of vaccine effectiveness. The committee agreed that genetic diversity and range of the level of expression of surface proteins among meningococcal group B strains adds an additional challenge to ascertaining effectiveness of meningococcal group B vaccines, such as BEXSERO, against the diverse population of circulating serogroup B strains. The committee discussed possible strategies for assessing breadth of coverage of a meningococcal serogroup B vaccine. Novartis will further address breadth of coverage as part of their confirmatory studies.