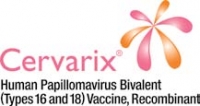 Proper Name
Human Papillomavirus Bivalent (Types 16 & 18) Vaccine, Recombinant
Indication
Prevention of cervical cancer, cervical intraepithelial neoplasia (CIN) grade 2 or worse and adenocarcinoma in situ, and cervical intraepithelial neoplasia (CIN) grade 1, caused by oncogenic human papillomavirus (HPV) types 16 and 18, in females9 through 25 years of age.
Description
CERVARIX [Human Papillomavirus Bivalent (Types 16 and 18) Vaccine, Recombinant] is a non-infectious recombinant, AS04-adjuvanted vaccine that contains recombinant L1 protein, the major antigenic protein of the capsid, of oncogenic HPV types 16 and 18.
Key Regulatory Milestones
10/16/2009 - Cervarix was licensed under BLA STN 125259/0.
07/26/2014 - PDUFA Goal Date
04/25/2016 - FDA approval date
Advisory Committee
A Vaccines and Related Biological Products Advisory Committee meeting for discussion of the data in this submission was not held because review of this supplement did not raise concerns which would have benefited from an advisory committee discussion.