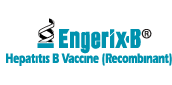 Proper Name
Hepatitis B Vaccine (Recombinant)
Indication
ENGERIX-B is a vaccine indicated for immunization against infection caused by all known subtypes of hepatitis B virus.
Description
ENGERIX-B [Hepatitis B Vaccine (Recombinant)] is a sterile suspension of noninfectious HBsAg for intramuscular administration. It contains purified surface antigen of the virus obtained by culturing genetically engineered Saccharomyces cerevisiae cells, which carry the surface antigen gene of the hepatitis B virus.
Key Regulatory Milestones
09/2011 - GSK submitted a Type C Meeting Request
09/20/2015 - PDUFA Goal Date
12/19/2018 - FDA approval date
Advisory Committee
The review team and CBER management determined that the discussion of the review of Engerix-B by the Vaccines and Related Biological Products Advisory Committee was not necessary because of CBER's experience with the currently licensed Engerix-B. Our review of the supplement did not raise concerns or controversial issues which would have benefited from an advisory committee discussion.