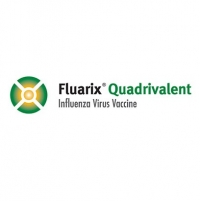 Proper Name
Influenza Virus Vaccine (Quadrivalent, Types A & Types B)
Indication
FLUARIX QUADRIVALENT is a vaccine indicated for active immunization for the prevention of disease caused by influenza A subtype viruses and type B viruses contained in the vaccine. FLUARIX QUADRIVALENT is approved for use in persons aged 6 months and older.
Description
FLUARIX QUADRIVALENT, Influenza Vaccine, for intramuscular injection, is a sterile, colorless, and slightly opalescent suspension. FLUARIX QUADRIVALENT is prepared from influenza viruses propagated in embryonated chicken eggs.
Key Regulatory Milestones
08/31/2005 - Fluarix was licensed in the U.S. under the accelerated approval regulations
10/02/2009 - Fluarix was granted 'traditional approval'  
10/19/2009 - Expansion of the age indication for children aged 3 years and older was approved (STN 125127/319).
12/14/2012 - Fluarix Quadrivalent (D-QIV) formulation was approved on (STN 125127/513)
01/18/2017 - Submitted the clinical study report to the IND 
01/12/2018 - PDUFA Goal Date
07/02/2020 - FDA approval date
Advisory Committee
            This submission was not discussed at a VRBPAC meeting because review of this submission did not identify concerns or issues which would have benefited from an advisory committee discussion.