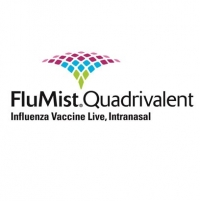 Proper Name
Influenza Vaccine, Live, Intranasal (Quadrivalent, Types A & Types B)
Indication
For active immunization for the prevention of influenza disease caused by influenza A subtype viruses and type B viruses contained in the vaccine.
Description
FluMist Quadrivalent (Influenza Vaccine Live, Intranasal) is a live quadrivalent vaccine for administration by intranasal spray. FluMist Quadrivalent contains four vaccine virus strains: an A/H1N1 strain, an A/H3N2 strain and two B strains.
Key Regulatory Milestones
04/05/2011 -  Date of Submission
04/29/2011 - Refusal to File Letter Issued
05/26/2011 - Application Filed Over Protest
07/09/2020 - FDA approval date
Advisory Committee
It was determined that review of the sBLA for FluMist® Quadrivalent by the Vaccines and Related Biological Products Advisory Committee (VRBPAC) was not required because of CBER's experience with the currently licensed FluMist® and because FluMist® Quadrivalent manufacturing is similar to the procedures used for the currently licensed FluMist® formulation. Furthermore, because our review of information submitted in the supplement, including the clinical study design and trial results, did not raise concerns or controversial issues which would have benefited from an advisory committee discussion, it was agreed that discussion of the review of this sBLA by the VRBPAC was not necessary.