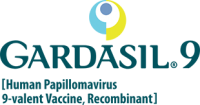 Proper Name
Human Papillomavirus 9-valent Vaccine, Recombinant
Indication
Indicated in girls and women 9 through 45 years of age for the prevention of Cervical, vulvar, vaginal, anal, oropharyngeal and other head and neck cancers caused by Human Papillomavirus (HPV) types 16, 18, 31, 33, 45, 52, and 58. Genital warts (condyloma acuminata) caused by HPV types 6 and 11, precancerous or dysplastic lesions caused by HPV types 6, 11, 16, 18, 31, 33, 45, 52, and 58
Description
GARDASIL 9, Human Papillomavirus 9-valent Vaccine, Recombinant, is a non-infectious recombinant 9-valent vaccine prepared from the purified virus-like particles (VLPs) of the major capsid (L1) protein of HPV Types 6, 11, 16, 18, 31, 33, 45, 52, and 58.
Key Regulatory Milestones
06/2006 - Merck's first licensed HPV vaccine, GARDASIL, was approved
2008 - new indication in (STN 125126/419) added
2009 - use in males and prevention of genital warts were added to the indication in (STN 125126/1297),
2010 - prevention of anal cancer and AIN in men and women was added to the indications and usage in (STN 125126/1895).
2014 - GARDASIL 9 was licensed with indications to prevent diseases related to the HPV types covered by the vaccine in girls and women 9 through 26 years of age, and boys 9 through 15 years of age.
2015 - GARDASIL 9 indications applicable to males were extended to include men 16 through 26 years of age (STN 125508/15).
10/06/2018 - PDUFA Goal Date
06/12/2020 - FDA approval date
Advisory Committee
This submission was not discussed at a Vaccines and Related Biological Products Advisory Committee (VRBPAC) meeting because review of this supplemental application did not identify concerns or issues which would have benefitted from an advisory committee discussion.