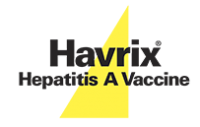 Proper Name
Hepatitis A Vaccine, Inactivated
Indication
For active immunization against disease caused by hepatitis A virus (HAV) for persons 12 months of age and older.
Description
HAVRIX (Hepatitis A Vaccine) is a sterile suspension of inactivated virus for intramuscular administration. The virus (strain HM175) is propagated in MRC-5 human diploid cells. 
Key Regulatory Milestones
07/24/2011 - PDUFA goal date
12/19/2018 - FDA approval date
Advisory Committee
There were no product-specific concerns that would have benefited from an advisory committee discussion.