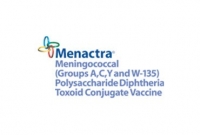 Proper Name
Meningococcal (Groups A, C, Y and W-135) Polysaccharide Diphtheria Toxoid Conjugate Vaccine
Indication
Active immunization of individuals 9 months through 55 years of age for the prevention of invasive meningococcal disease caused by Neisseria meningitidis serogroups A, C, Y and W-135.
Description
Menactra is a sterile, intramuscularly administered vaccine that contains N meningitidis serogroup A, C, Y and W-135 capsular polysaccharide antigens individually conjugated to diphtheria toxoid protein.
Key Regulatory Milestones
2005 - Menactra was licensed for use and distribution in the US in for individuals 11 through 55 years of age.
2007 - the age range for use was extended to include persons 2 through 10 years of age.
2011 - approved for use in children 9 through 23 months of age.
9/16/2016 - PDUFA Goal Date
04/27/2018 - FDA approval date
Advisory Committee
Did not require input from Vaccines and Related Biological Products Advisory Committee.