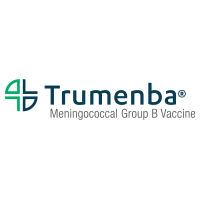 Proper Name
Meningococcal Group B Vaccine
Indication
Indicated for active immunization to prevent invasive disease caused by Neisseria meningitidis serogroup B. Trumenba is approved for use in individuals 10 through 25 years of age.
Description
Trumenba is a sterile suspension composed of two recombinant lipidated factor H binding protein (fHBP) variants from N. meningitidis serogroup B, one from fHBP subfamily A and one from subfamily B (A05 and B01, respectively).
Key Regulatory Milestones
06/16/2014 -  Wyeth Pharmaceuticals, Inc. (U.S. license 0003), a subsidiary of Pfizer Inc., submitted BLA 125549 
10/29/2014 - Trumenba was approved under the accelerated approval regulations
03/27/2015 - the Applicant submitted a Clinical Efficacy Supplement (STN 125549/17) to revise the dosing regimen.
04/14/2016 - FDA approved the supplement to include a two-dose schedule (a dose administered at 0 and 6 months) under the regulations for accelerated approval, 21 CFR 601.40-46.
03/13/2017 - PDUFA Goal Date
03/14/2018 - FDA approval date
Advisory Committee
A Vaccines and Related Biologics Products Advisory Committee meeting was not held, as there were no issues or concerns that presented during the course of review of the supplement that required consult from the advisory committee