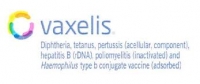 Proper Name
Diphtheria & Tetanus Toxoids & Acellular Pertussis Vaccine Adsorbed, Inactivated Poliovirus, Haemophilus b Conjugate & Hepatitis B Vaccine
Indication
Active immunization against diphtheria, tetanus, pertussis, poliomyelitis, hepatitis B, and invasive disease due to Haemophilus influenzae type b (Hib) in children 6 weeks through 4 years of age (prior to fifth birthday).
Description
VAXELIS (Diphtheria and Tetanus Toxoids and Acellular Pertussis, Inactivated Poliovirus, Haemophilus b Conjugate and Hepatitis B Vaccine) is a sterile suspension for intramuscular injection.
Key Regulatory Milestones
09/21/2010 - submitted an Investigational New Drug Application (IND)
08/13/2014 - MCM submitted a Biologics License Application (BLA) for PR5I to CBER (STN 125563)
02/14/2018 - submitted a request to IND 14496 for withdrawing that proprietary name of the vaccine 
02/16/2018 -  submitted a Proprietary Name Review (PNR) request to the same IND for changing the name of the product from to VAXELIS.
06/19/2018 - CBER provisionally accepted VAXELIS as the proprietary name of the vaccine.
08/27/2018 - MCM submitted a PNR request to the BLA.
06/25/2015 - submitted amendment to the BLA
05/25/2017 - submitted an amendment to their IND 14496
12/29/2018 - PDUFA Goal Date 
10/27/2020 -  FDA approval date
Advisory Committee
An Advisory Committee Meeting for VAXELIS vaccine was not held, because there were no issues pertaining to this BLA that required input from the Vaccines and Related Biological Products Advisory Committee.